Name:Nevan-The Devil's Claw
Manifestation:A female lighting witch that has the ability to control bats and the darkness.
Release Phrase:Ready to Rock?
Owner:Sesshomaru
Family:Dark Lightning (That's the element Dark Lighting)
Type:Dual Melee
Level:Banki
Blade Description(
Sealed
Released
Bankai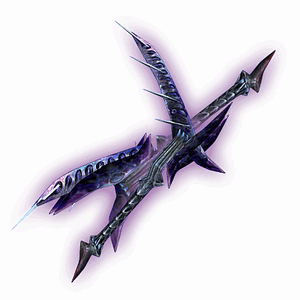 Banki Vaizard Form:
Techniques
Name:Jam Session
Type:Bankai
Description:Pick your guitar with blinding speeds, summoning a massive horde of blood-thirsty bats to attack enemies.
Name:Reverb Shock
Type;Banki
Description:Charge at the enemy and hit them with a powerful electric attack then fire an electric attack in conjunction with summoning a horde of bats to damage the enemy.
Name:Distortion
Type;Banki
Description;Master the awesome power of nature by attacking enemies with a barrage of bats coupled with blasts of lightning.
Name;Bat Rift
Type:Banki
Description:Swing your guitar in a massive arc pattern, slashing a nearby enemy .Another version knocks the enemy into the air, then summons a swarm of blood-thirsty bats, which do additional damage via a homing attack.
Name:Summon Swords
Type:Sealed
Description:Summon a magical blade and fling it towards a foe, piercing the enemy through sheer force of will.
Name:Rapid Slash
Type:Released
Description;Quickly charge towards an enemy, thrusting your sword deep into them. Another variation is an even more destructive version with higher speed.



Posts

: 12


Join date

: 2008-09-24

Character sheet
Health:


(100/100)


Reiatsu:


(220/230)


Skill:


_________________
Skill LevelZanjutsu: Master

Hohou: Master

Kidou: High

Hakuda: Below Average
Captain Commander





Posts

: 74


Join date

: 2008-09-23

Character sheet
Health:


(100/100)


Reiatsu:


(230/230)


Skill:


Similar topics
---
Permissions in this forum:
You
cannot
reply to topics in this forum